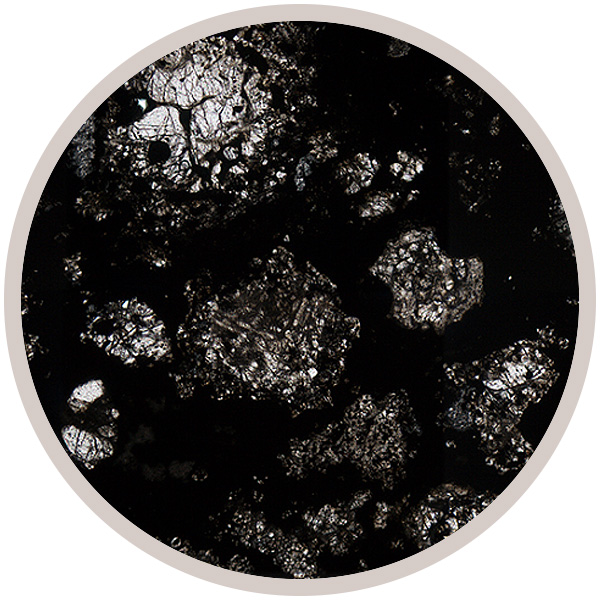 Click the microscope button to view a thin section for this sample.
Microscope
Click the microscope button to view a thin section for this sample.
Microscope
Fact sheet
Location: The village of Pueblito de Allende, Chihuahua, Mexico
Co-ordinates:  26°58'N, 105°19'W.
Find or Fall: Fall
Date:  February 8, 1969, 7:05 GMT.
Recovered weight: two metric tons scattered over an area of 48 km x 7 km
Group: Carbonaceous Chondrite
Type:III
Allende is often called the "best studied meteorite in history". It contains microscopic diamonds with unusual isotopic signatures that point to an extrasolar origin. These interstellar grains are older than the Solar System and may have been produced by a nearby supernova. They represent some of the oldest matter known to man and are estimated to be 4.567 billion years old....and amazingly they are 30 million years older than the Earth.
Further details of this meteorite are provided by the Smithsonian National Museum of Natural History:
http://www.mnh.si.edu/onehundredyears/featured_objects/AllendeMeteorite....
See also
Jarosewich et al. (1987) The Allende meteorite reference sample, publ. Smithsonian Institution Press, 49pp.
Classification: http://www.open.ac.uk/earth-research/tindle/AGT/AGT_Home_2010/MeteoriteClass-2.html
Additional images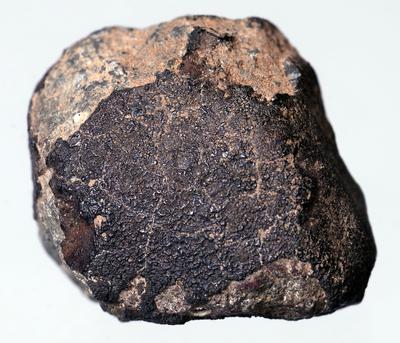 About this collection
'Space Eyeful: A Virtual Space Microscope'
This collection presents digitised microscope images of rare and usually inaccessible extraterrestrial meteorite samples. The project was funded by the EUROPLANET consortium and is a collaboration between The Open University; The Natural History Museum, London; The Natural History Museum, Vienna; and NASA's Meteorite Working Group (MWG).
Meteorites fall on the Earth every year, bringing with them information on the make-up of the solar system including the Moon, Mars and asteroids.
Image credit: The Alamat meteorite in situ, courtesy of Dr Svend Buhl, Meteorite Recon
Sample details
We would like to thank the following for the use of this sample: