Collection:
British & Irish Meteorites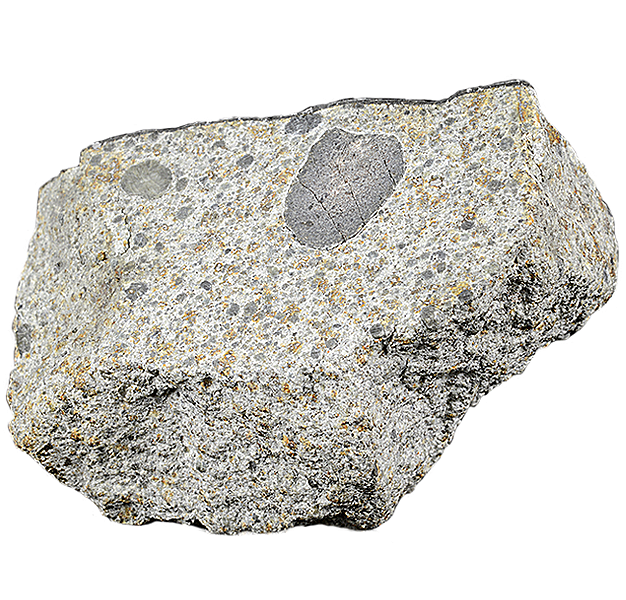 Click the microscope button to view a thin section for this sample.
Microscope
Click the microscope button to view a thin section for this sample.
Microscope
Click the object button to view an object rotation for this sample.
Object
Fact sheet
Following a fireball and sonic effects the Barwell meteorite fell on December 24th 1965. It is an ordinary chondrite that broke up during its passage through the Earth's atmosphere. At least 44 kg of fragments have been recovered. Barwell is a village near Leicester, Leicestershire, England.
The Barwell meteorite is classified as an L6 meaning it has a low iron content (5-10%) and indistinct chondrules (round features) that have in many places have been metamorphosed under conditions to homogenise the pre-existing minerals (olivine and pyroxene mainly). Look in PPL to see a few remaining chondrules (rotation 1) and some relatively large blocky pyroxene crystals. In reflected light, metallic iron (silvery grey) and troilite (golden yellow) are clearly visible.
Download a detailed description of this meteorite here:
http://www.minersoc.org/pages/Archive-MM/Volume_35/35-275-881.pdf
See also:
http://www.bimsociety.org/bim1.shtmls
Specimen: BM1966,59
Thin section: Sedgwick Museum - "Barwell L"
About this collection
This Collection consists of meteorites that have fallen in Great Britain and Ireland and which are now preserved in museum collections. We have also included samples of the two known meteorite impact deposits in the UK.
The Natural History Museum in London offers more information about meteorites and meteorite categories; there is more information about its meteorite collections here.
Sample details
Rock-forming mineral
olivine
pyroxene
troilite
metallic iron
We would like to thank the following for the use of this sample: