Collection:
British & Irish Meteorites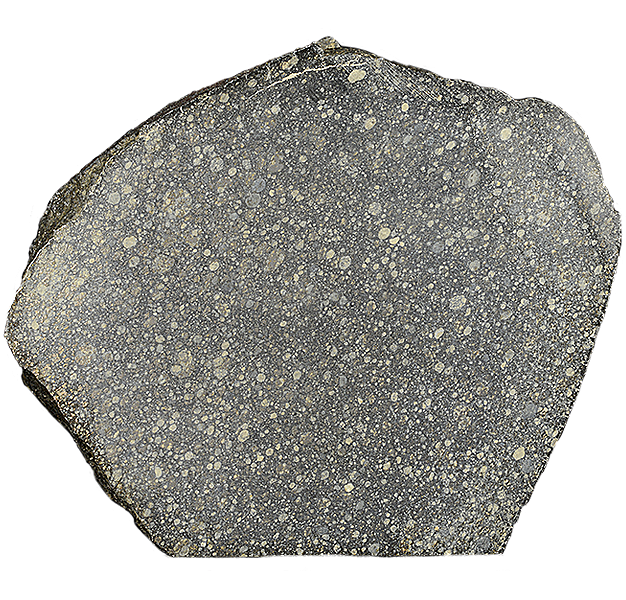 Click the microscope button to view a thin section for this sample.
Microscope
Click the object button to view an object rotation for this sample.
Object
Fact sheet
In the early hours of September 21st 1949 many people in North Wales and Cheshire saw a brilliant light in the sky and heard dull explosions. It was the prelude to the fall of the Beddgelert meteorite. The next morning the wife of the owner of the Prince Llewelyn Hotel found a hole in the roof and a small cricket ball object on the floor - the meteorite. It is an ordinary chondrite weighing 794 gms. 
Beddgelert is a village near Blaenau Ffestiniog in North Wales.
The Beddgelert meteorite is classified as an H5 chondritic meteorite meaning it has a high iron content (12-21%) and distinct chondrules (olivine and pyroxene mainly). Chondrules are thought to have formed from the condensation of hot gases in the solar system around 4.6 billion years ago. In the hand specimen these chondrules are clearly visible.

See also:
http://www.lpi.usra.edu/meteor/metbull.php?code=4993
Specimen: BM1949,259
About this collection
This Collection consists of meteorites that have fallen in Great Britain and Ireland and which are now preserved in museum collections. We have also included samples of the two known meteorite impact deposits in the UK.
The Natural History Museum in London offers more information about meteorites and meteorite categories; there is more information about its meteorite collections here.
Sample details
We would like to thank the following for the use of this sample: