Collection:
British & Irish Meteorites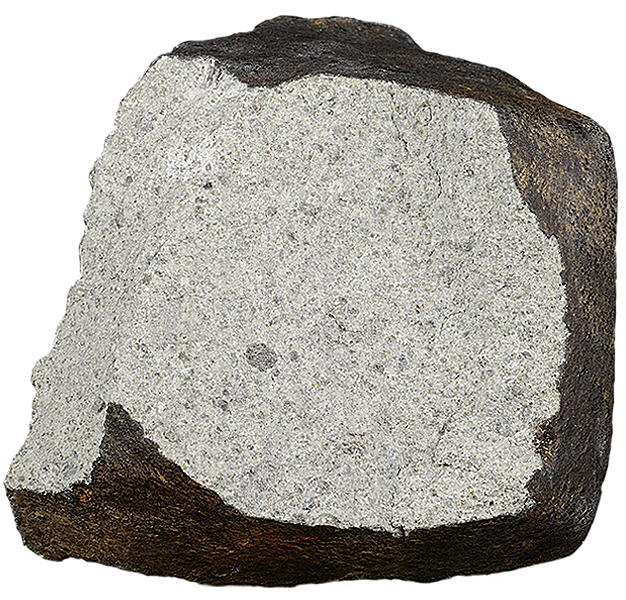 Click the microscope button to view a thin section for this sample.
Microscope
Click the microscope button to view a thin section for this sample.
Microscope
Click the object button to view an object rotation for this sample.
Object
Fact sheet
This single stone of 767 grams fell on 15th May 1991 in the village of Glatton, 15 km SSW of Peterborough, Cambridgeshire, England. It landed in the garden of Mr Pettifor who heard it crash through a hedge and found it, still warm, in a pit about 2 cm deep. The meteorite has a granular texture and was acquired for the nation by the Natural History Museum in London. 
The Glatton meteorite is classified as an L6 chondritic meteorite, meaning it has a low iron content (5-10%) and indistinct chondrules that have been metamorphosed under conditions capable of homogenising all mineral compositions. Look in PPL to see chondrules consisting of olivine and pyroxene crystals. Rotation 1 shows parts of three chondrules whereas rotation 2 shows a single, very indistinct chondrule and some blocky pyroxene and olivine crystals. The reflected light view reveals the location of the metallic iron in this sample (silvery grey mineral) and troilite (a golden yellow sulphide mineral).
See also:
http://www.lpi.usra.edu/meteor/metbull.php?code=10930
http://www.bimsociety.org/bim1.shtml
Specimen: BM1991,M.3
Thin section: 
About this collection
This Collection consists of meteorites that have fallen in Great Britain and Ireland and which are now preserved in museum collections. We have also included samples of the two known meteorite impact deposits in the UK.
The Natural History Museum in London offers more information about meteorites and meteorite categories; there is more information about its meteorite collections here.
Sample details
Rock-forming mineral
olivine
pyroxene
troilite
metallic iron
We would like to thank the following for the use of this sample: