Collection:
British & Irish Meteorites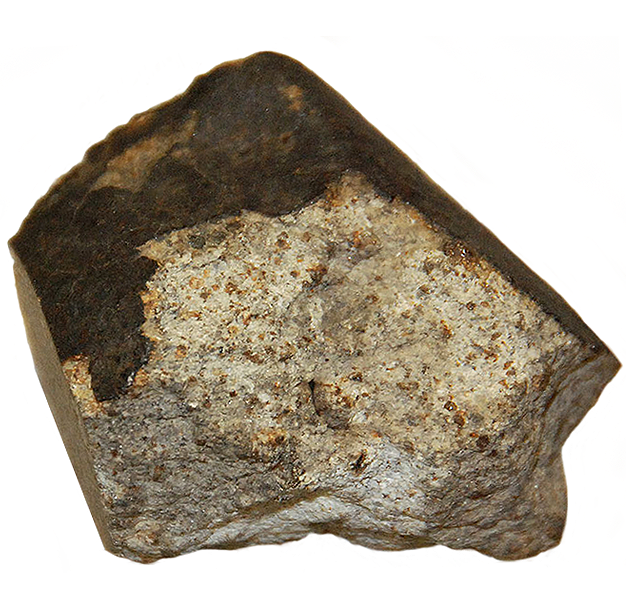 Click the microscope button to view a thin section for this sample.
Microscope
Click the microscope button to view a thin section for this sample.
Microscope
Click the object button to view an object rotation for this sample.
Object
Fact sheet
The High Possil meteorite fell on 5th April 1804 and was recovered in two parts weighing 4.5 kg in total. The fall was heard by a number of people and witnessed by workmen in a quarry who were later able to recover it. The largest remaining fragment of the meteorite weighs 151 gm and is held by Glasgow University: Hunterian Museum. At the time, High Possil was a village on the northern outskirts of Glasgow, Scotland.
The High Possil meteorite is classified as an L6 ordinary chondrite, meaning it has a low iron content (5-10%) and indistinct chondrules that have been metamorphosed under conditions capable of homogenising all mineral compositions. Look in PPL to see olivine and pyroxene crystals and the most indistinct remnants of chondrules (not helped by the thickness of the section). In the reflected light view silvery grey metallic iron and golden yellow troilite are clearly visible. Less easy to see are the dull grey crystals of chromite.
See also:
http://www.bimsociety.org/bim4.shtml

http://www.lpi.usra.edu/meteor/metbull.php?code=11884
Specimen: object movie BM19971, stills Hunterian Museum, Glasgow
Thin section: Sedgwick Museum
About this collection
This Collection consists of meteorites that have fallen in Great Britain and Ireland and which are now preserved in museum collections. We have also included samples of the two known meteorite impact deposits in the UK.
The Natural History Museum in London offers more information about meteorites and meteorite categories; there is more information about its meteorite collections here.
Sample details
Rock-forming mineral
olivine
pyroxene
feldspar
Accessory minerals
metallic iron
troilite
whitlockite
chromite
native copper
We would like to thank the following for the use of this sample: